Or, use the links below to donate to a specific project:
Malek Primary School
– South Sudan –
Shawi Indigenous School
– Amazon Jungle of Peru –
Khmer Hands School
– Cambodia –
Mahout Village Project
– Thailand –
I want to Impact

A

Village and make a difference!
Buy The Book & Help A Village!
This beautifully illustrated book chronicles Deng's harrowing journey as one of the Lost Boys of Sudan. "A Story of Hope" is an amazing story of courage and is written for ages 3rd grade and up. All proceeds go to ImpactAVillage to help improve education and healthcare in villages around the world.
If you are an educator who wishes to purchase books for your classroom at an educational discount, please contact Lisa Wade, President of ImpactAVillage lisafwade@gmail.com
"A Story of Hope – The Journey of a Lost Boy of Sudan"
by Deng Jongkuch and Lisa Wade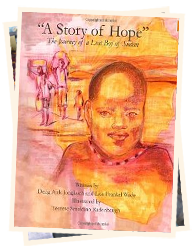 ImpactAVillage is a 501(c)(3) tax-exempt organization and donations are tax deductible to the extent allowed by the law. Tax ID number: EIN #26-3322236.
ImpactAVillage has a Gold-level Ranking with GuideStar.org
Donate by credit card or mail a check payable to:
ImpactAVillage
6242 Buena Vista Ave
Oakland, CA 94618
If you have any questions, please contact Lisa Wade, President of ImpactAVillage at lisafwade@gmail.com or 916-214-0579. Thank you for your generosity!