Buy The Book & Help A Village!
This beautifully illustrated book chronicles Deng's harrowing journey as one of the Lost Boys of Sudan. "A Story of Hope" is an amazing story of courage and is written for ages 3rd grade and up. All proceeds go to ImpactAVillage to help improve education and healthcare in villages around the world.
If you are an educator who wishes to purchase books for your classroom at an educational discount, please contact Lisa Wade, President of ImpactAVillage lisafwade@gmail.com
"A Story of Hope – The Journey of a Lost Boy of Sudan"
by Deng Jongkuch and Lisa Wade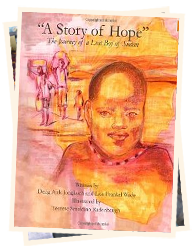 Kid Reporters' Notebook writer, Manat Kaur writes about Deng and life.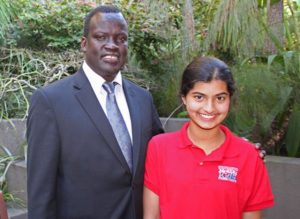 NEWS UPDATE: IMPACTING OUR CALIFORNIA VILLAGE

October 13, 2017: The board members of ImpactAVillage voted to help our local "village" of Northern California devastated by the fires. We donated $2500 to the Redwood Empire Food Bank who is providing critical food to shelters for our neighbors displaced by fires. This is the way to impact a village!