Impact Through Speaking Engagements
Impact Through Speaking Engagements
ImpactAVillage offers speaking engagements at schools, corporations, clubs, and places of worship. Our inspirational speaker Deng Jongkuch shares his harrowing story of survival as one of the Lost Boys of Sudan and his experience as a refugee in the U.S. His story offers hope, creates awareness about different cultures, and inspires activism, volunteerism and giving back to those in need. Additionally, Eda Zavala – an anthropologist, activist and healer from the Peruvian Amazon is also available for speaking engagements upon request.
Please consult Lisa Wade, President of ImpactAVillage at info.ImpactAVillage@gmail.com or 916-214-0579 if you would like more information.
Past Speaking Engagements
California High School – San Ramon, CA

Medway Middle School – Medway, MA

Congregation Beth David, Saratoga, CA

First Congregational Church, San Jose, CA

Granite Bay High School, Granite Bay, CA

Kehillah Jewish High, Palo Alto, CA

Los Alto High, Los Altos, CA

Menlo Middle School, Atherton, CA

Sacred Heart School, Atherton, CA

American Indian Model Schools, Oakland, CA
Los Gatos Methodist Church, Los Gatos, CA

Rocklin High School, Rocklin, CA

St. Francis High, Mountain View, CA

St. Pius School, Redwood City, CA

Temple Sholom, Burlingame, CA

Lisa's Hearth, Granite Bay, CA

Christian Brothers High School, Sacramento, CA

Lighthouse Charter School, Oakland, CA

Vallecito Elementary School, Oakland, CA

Edna Maguire School, Mill Valley, CA
St. Michaels Episcopal Day School, Carmichael, CA

Castro Valley High School, Castro Valley, CA

St Pius School, Redwood City, CA

Trinity School, Menlo Park, CA

Intl School of the Peninsula, Palo Alto, CA

Piedmont High School, Piedmont, CA

California State University at Sacramento, CA

Contra Costa Jewish Day School, Lafayette, CA

Alta Vista School, San Francisco, CA
I want to Impact

A

Village and make a difference!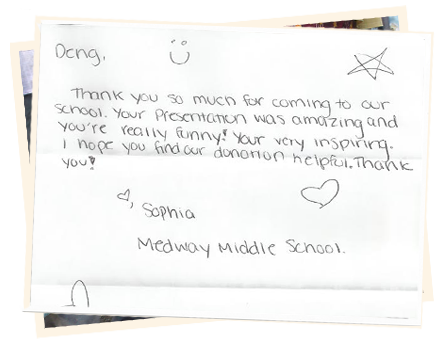 Deng,
Thank you so much for coming to our school. Your presentation was amazing, and you're really funny! You're very inspiring. I hope you find our donation helpful. Thank you!
Sophia, Medway Middle School
Medway, MA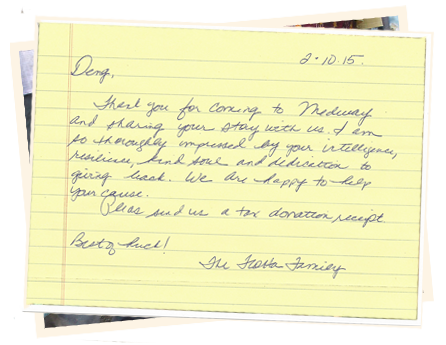 Deng,
Thank you for coming to Medway and sharing your story with us. I am so thoroughly impressed by your intelligence, resilience, kind soul and dedication to giving back, We are happy to help your cause.
Best of luck!
The Flotta Family
Medway, MA
NEWS UPDATE: IMPACTING OUR CALIFORNIA VILLAGE

October 13, 2017: The board members of ImpactAVillage voted to help our local "village" of Northern California devastated by the fires. We donated $2500 to the Redwood Empire Food Bank who is providing critical food to shelters for our neighbors displaced by fires. This is the way to impact a village!