ImpactAVillage Ambassadors Around Our World
ImpactAVillage Abassadors
Around Our World
Deng Ajak Jongkuch – South Sudan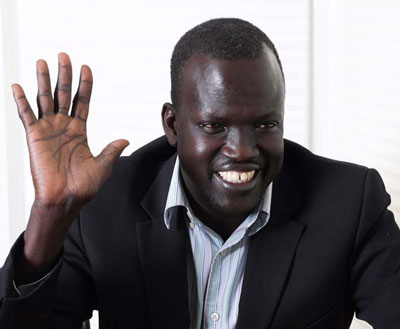 Deng Ajak Jongkuch has endured more in his life than most of us on this planet. To call him an inspiration is an understatement. Deng not only survived a harrowing journey as one of the Lost Boys of Sudan, but he thrived in his passion to help the South Sudanese people. Impact A Village is honored to have Deng as their ambassador for South Sudan where he successfully directed the building of the Malek Primary School. His work continues to make an impact in South Sudan today. Deng was thrilled to answer our questions about how this former Lost Boy was found.
During the Second Sudanese Civil War (1983-2005), Deng was displaced from his family in their South Sudanese village in 1987, when he was just six or seven years old. One of 30,000 boys that later became known as "The Lost Boys of Sudan", Deng was able to escape with the other boys making an arduous journey through jungles and deserts seeking safety, shelter and food. It took them years, thousands of miles, and many refugee camps throughout Kenya and Ethiopia far from their loved ones—until in 2001, about 3,800 Lost Boys were selected for resettlement in the United States. Deng was one of them.
Finding absolutely everything challenging and new and daunting in his new world (from flying in an airplane, to electricity, flush toilets, etc.!) the young man who had been schooled in the Kakuma refugee camp in Kenya, hit the ground studying in the U.S. Working 24/7 to support himself Deng received a bachelor's degree from California State University in San Jose in 2008, and a Masters degree in Public Health from Touro University in 2011. His goal was always the same: To go back to South Sudan, find his family, and help his people. Everything he did was with that aim in mind.
After the long civil war between Northern and Southern Sudan finally ended in 2005, Deng couldn't wait to be reunited with his family. He did not even know if they were still alive. During his summer break from school, Deng used the money he saved to take the long journey back to his home village. Amazingly, he found his parents alive! See the sidebar to read more about Deng's miraculous homecoming in an excerpt from his book, "A Story of Hope—The Journey of a Lost Boy of Sudan."
The enduring passion that fueled Deng forward, never losing sight of his goal, was to help his people. When he was able to finally return to his home, Deng was devastated by what he witnessed. His village was in terrible condition. The people were suffering—lack of hygiene, dirty water, no roads or schools. Everywhere he turned there was need. He had to do something about it.
Deeply committed to right the wrong he saw, Deng began to do everything he could to raise awareness and help rebuild his and other villages in South Sudan. His constant memory of being a Lost Boy screamed loud and clear in his soul. His destiny wasn't lost. It was to help others find new lives, too.
Deng's story is as remarkable as he is. This is what he had to say in response to our questions.
Why did you help found the non-profit Impact A Village in 2009? What was your main objective and what were you able to accomplish?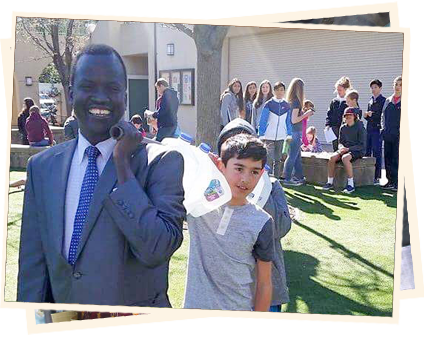 Impact A Village helped me achieve my dream of building a Primary School in South Sudan. First, I had to talk with the elders in the village of Malek about their needs for a school. They agreed to donate the land and supply community labor to build the school. Impact A Village agreed to supply all the materials and a contractor. Under my direction, the villagers cleared the land, dug the foundation, made bricks from cement and sand, and built all the walls of the school. Impact A Village purchased all the materials for the school including the cement, lumber, rebar, and roofing.
How successful is the Malek School today?Well it's a dream-come-true! The 5-room schoolhouse was completed in 2010 and holds over 750 students. Many boys and girls are learning to read and write under the shelter of this school house. Impact A Village provides additional funds as needed for improvements to the school such as the recent installation of solar power for lights.
What are you currently doing as a Board Member of Impact A Village?When I'm in South Sudan, I check on the Malek Primary School which Impact A Village funded. For one or two weeks each year I speak at schools in the United States on behalf of Impact A Village to educate students about the story of the Lost Boys of Sudan. It's important to bring awareness about the challenges of refugees. I also keep the Impact A Village board updated about the needs of South Sudan.
Tell us about the time you began working for the non-profit Partners in Compassionate Care (PCC) in 2011.
After completing my graduate studies, I began working as the site administrator for the PCC hospital in the rural village of Werkok, South Sudan. Even though the salary wasn't big, I didn't object because it was supporting my dream of going back to South Sudan and helping my people in a bigger way. After two years full-time in Werkok, I moved back to Michigan stepping into my role as Executive Director of PCC. It was at this time that I was able to finally relocate my wife and children to the United States, in Grand Rapids, Michigan.
We recently purchased a new home in 2017, something we're most proud about. My wife is Yar Makol and we've been married since Jan 2000—where we wed in Kakuma refugee camp in Kenya. She was one of the Lost Girls of Sudan that went to Ethiopia and Kenya to seek safety in 1987. Our children are, Anyieth, 17; Atong, 11; Jongkuch 10; Amer, 7; and Nyandit, 4 years old.
Tell us about the Cataract Program that you're committed to in South Sudan. How many are being helped—does it reverse blindness?
Cataracts are a primary cause of blindness in South Sudan. Cataract surgery restores total eyesight if the clouded lens is replaced with a clear artificial lens.
PCC started the first round of cataract surgeries in South Sudan in 2011 and a second round in 2018. With donated funds from Impact A Village and many others, we helped as many as we could, but funds are never enough to perform the required surgeries.
In the fall of 2018 over 700 people showed up hoping we could provide Cataract surgery. We performed nearly 200 surgeries. It was hard to turn so many away as we did not have enough Intra-Ocular Lens, surgical blades, medicines and supplies. We collected donations for our next round of surgeries and returned to South Sudan in the spring of 2018 to perform more surgeries.
Cataracts can be attributed to too much direct sunlight in the eyes. We need tremendous supplies of sunglasses to protect the eyes as well as medicine. Also, smoke from the cooking fires is a problem. With glaucoma, the contributing factor is bacteria and the contagion caused by bad hygiene, dirty water, no sanitation. We must educate as well as medicate.
What are your "Big Picture" plans?
My BIG, BIG, Big picture is to build a Community Learning Center in South Sudan that provides health care training (Nurses, Clinical officers, laboratory technician), technical skills (mechanic, electrician), agriculture, chicken farming and fish farming. I want to train people in the right way to save lives. Without proper training and education a lot of bad things happen. This is my retirement plan, and hopefully God will make it happen soon. I am already taking the first step by acquiring 20 hectares of land in Malek village. Buildings sketches are finished, and I am currently working on the curriculum for nursing, clinical officer, and laboratory technician. Once the construction of the buildings is done, I will start contacting medical schools in the US for partnership. This partnership will bring American and South Sudanese students together to share ideas and learn from each other.
What is your mission on Earth? Your purpose?
My mission is to contribute to human development especially the undeserved communities. I want to raise my children to be good citizens, with loving hearts that respect humanity and the environment. When I looked at my life and realized that I was just one of 3,800 out of 16,000 refugees who were selected to come to the United States it was clear to me that it wasn't an accident. I had to wonder why did I survive?
Now I know. I'm here to relate the history of what happened in South Sudan and to know, really know the story. We are not bad people. Refugees are not bad people. I want others to know what it means to be displaced from everyone you know and love—to be separated from your entire family. And I want to help raise donations to help protect, save, educate my people.
What gives you hope?
There are a lot of good people with caring hearts that will continue to push for human equality, environmental protection and protection of human lives. Although it is a difficult fight, good people are always there to resist those who want to turn back the clock.
If you understand history it's clear that human beings have a way of overcoming adversity, no matter how terrible. Here in the U.S. there is a huge political divide, but the foundation of America remains strong. Peace and harmony may not happen overnight; that takes time but it will happen. For places like South Sudan and others like it going through tough times, I believe that the strength of the human spirit prevails. There are good people who always show up to make this world a better place. After providing cataract surgeries in South Sudan, there are now hundreds of people who see the light again—some for the first time—because of good people who gave them the resources to see. I have hope because of that goodness, that generosity, that light.
What or who is the greatest impact in your life?
I was only six or seven when I fled from my parents and village so unfortunately it wasn't my father or mother who impacted me the most. It was the experience I was forced to face in order to survive. Being displaced as a child and growing up in refugee camps and suffering daily; it was the other children that kept me going and gave me the strength I needed to live. We children raised ourselves. The journey I went through as a child had a huge impact in my life. It shaped the way I see things and think. It is what drives me to do community service today. I understand how it feels to have not enough food, no access to medical services, no education, to live under constant fear and threat of being killed. Mainly how it feels to live like a forgotten human.
Do you have a favorite poem or psalm?
I love Martin Luther King Jr's quote, "Let no man pull you low enough to hate him." With the many challenges I went through, I understand that there is nothing and no human that will pull me down to hate people or to give up when things do not look good for me. Every day is a struggle and yes, there are unreasonable human beings that I believe are here for a purpose. We must learn and grow from it all.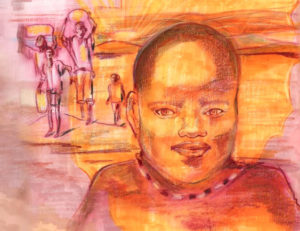 Excerpt from "A Story of Hope—The Journey of a Lost Boy of Sudan" , by Deng Jongkuch
In 2005 after the Sudanese Civil War ended, Deng made the long journey back to Southern Sudan. First there was a long trip by airplane from San Jose, California to Uganda, next a bus ride to Kakuma Camp and Lukichoggio in Kenya, then a bumpy trip by cargo plane to Bor Town, and finally after nine hours of walking on a dirt path, Deng arrived in his village. It had been so many years since he had been home, but fortunately, because he remembered the name of his village—Gwalla—he was able to locate it.
When he finally walked into his village, everyone wondered who he was, because when most of them had last seen him he was a very little boy. But he would go up to each one and kept repeating his name over and over again asking the same question, "Are my parents in this village?" And then one person answered him with the words that made him nearly fall to the ground with shock. "Yes," the woman answered, "your mother arrived in this village just two months ago, and your father arrived only days ago." Deng couldn't believe the good news. But he learned also that this very day was the day of his grandmother's funeral.
Running towards where the woman pointed, he was shocked that he recognized his mother, even though he hadn't seen her since he was just six years old. It had been nearly twenty years since they had last seen each other. At first, Deng's mother didn't recognize the big man in front of her as her son. She said to Deng, "I will know you are my son if you can tell me the special nickname I called you when you were little." There was complete silence as the villagers held their breath, wondering if Deng would remember a special name from so long ago.
Deng said, "Momma, you called me Makuol, which means 'little pumpkin'." Deng's mother screamed with joy and hugged him. The whole village let out shouts of joy and excitement. Where there had been sorrow just moments before, there was now joy and celebration. Deng's father began to run around, shouting with joy.
I'm ready to make a difference!
Every dollar donated makes an impact! We can make a difference one dollar, one project, one village at a time.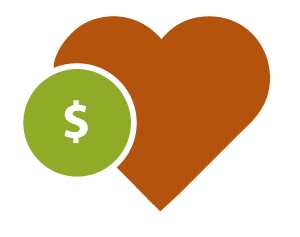 Buy The Book & Help A Village!
This beautifully illustrated book chronicles Deng's harrowing journey as one of the Lost Boys of Sudan. "A Story of Hope" is an amazing story of courage and is written for ages 3rd grade and up. All proceeds go to ImpactAVillage to help improve education and healthcare in villages around the world.
If you are an educator who wishes to purchase books for your classroom at an educational discount, please contact Lisa Wade, President of ImpactAVillage lisafwade@gmail.com
"A Story of Hope – The Journey of a Lost Boy of Sudan"
by Deng Jongkuch and Lisa Wade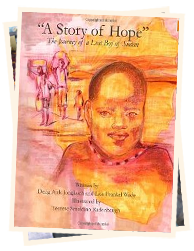 NEWS UPDATE: IMPACTING OUR CALIFORNIA VILLAGE

November, 2018: ImpactAVillage continues to support our local "village" of Northern California devastated by fires with our recent donation to the North Valley Community Foundation for relief of victims and workers of the Camp Fire. This is the way to impact a village!

October, 2017: The board members of ImpactAVillage voted to help our local "village" of Northern California devastated by the fires. We donated relief funds to the Redwood Empire Food Bank who is providing critical food to shelters for our neighbors displaced by fires. This is the way to impact a village!