Deng Jongkuch
One of the Lost Boys of Sudan
Deng Jongkuch
One of the Lost Boys of Sudan
In 1987, at the age of 5, Deng escaped from his village in South Sudan while it was under attack by soldiers during the Sudan Civil War. He joined 30,000 other Lost Boys of Sudan and walked over 1000 miles to find safety at refugee camps, first in Ethiopia and then in Kenya. In 2001, after nearly fourteen years in refugee camps, Deng was selected for resettlement in the United States with 3,800 other boys. Deng worked hard to receive an education and graduated from California State University-San Jose with a BS in Health Science and a Masters in Public Health from Touro University. Deng is passionately committed to improving literacy in South Sudan and in 2009 worked with funds from ImpactAVillage to direct the building of a primary school in Malek, South Sudan.
Deng frequently gives inspirational talks at schools in the U.S. about his experiences as one of the Lost Boys of Sudan and as a refugee in the U.S.
A Lost Boy's Journey Timeline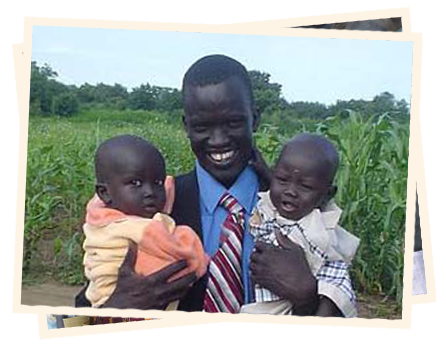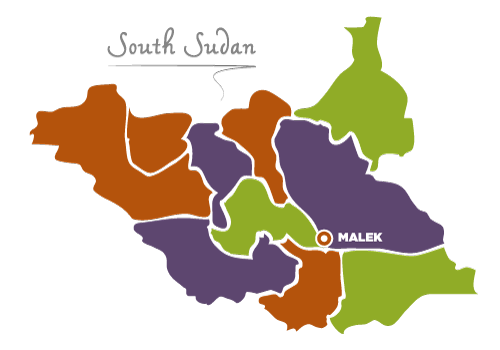 This beautifully illustrated book chronicles Deng's harrowing journey as one of the Lost Boys of Sudan. "A Story of Hope" is an amazing story of courage and is written for ages 3rd grade and up. All proceeds go to ImpactAVillage to help improve education and healthcare in villages around the world.
If you are an educator who wishes to purchase books for your classroom at an educational discount, please contact Lisa Wade, President of ImpactAVillage lisafwade@gmail.com
"A Story of Hope – The Journey of a Lost Boy of Sudan"
by Deng Jongkuch and Lisa Wade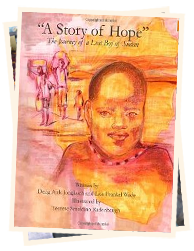 I want to Impact

A

Village and make a difference!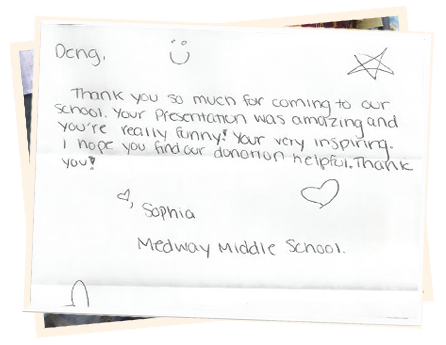 Deng,
Thank you so much for coming to our school. Your presentation was amazing, and you're really funny! You're very inspiring. I hope you find our donation helpful. Thank you!
Sophia, Medway Middle School
Medway, MA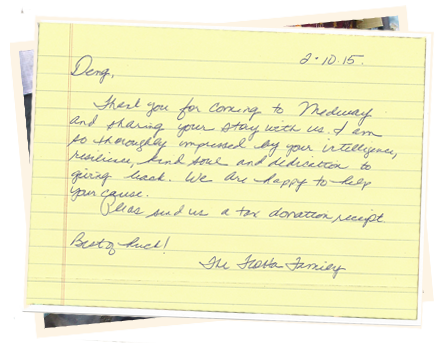 Deng,
Thank you for coming to Medway and sharing your story with us. I am so thoroughly impressed by your intelligence, resilience, kind soul and dedication to giving back, We are happy to help your cause.
Best of luck!
The Flotta Family
Medway, MA
Kid Reporters' Notebook writer, Manat Kaur writes about Deng and life.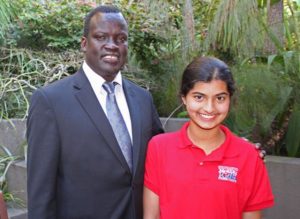 NEWS UPDATE: IMPACTING OUR CALIFORNIA VILLAGE

November, 2018: ImpactAVillage continues to support our local "village" of Northern California devastated by fires with our recent donation to the North Valley Community Foundation for relief of victims and workers of the Camp Fire. This is the way to impact a village!

October, 2017: The board members of ImpactAVillage voted to help our local "village" of Northern California devastated by the fires. We donated relief funds to the Redwood Empire Food Bank who is providing critical food to shelters for our neighbors displaced by fires. This is the way to impact a village!