There Are So Many Ways To
Make An Impact!
There Are So Many Ways To Make An Impact!
The opportunities to help make a difference are endless, and every bit counts. Encourage your children to get involved by hosting Deng Jongkuch to speak at their school, having a book drive, selling lemonade, or hosting a movie night. Please consult the President of ImpactAVillage, info.ImpactAVillage@gmail.com for ideas and more information.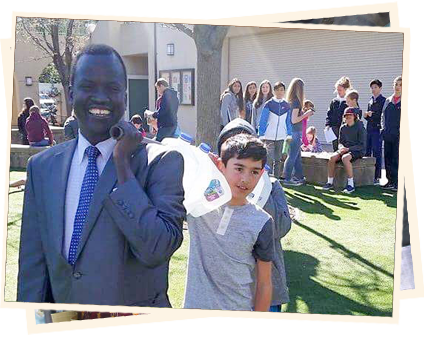 Walk for Water
Students at Menlo Middle School participated in a water walkathon in 2017. They raised over $3000 for supplying clean water and a modern toilet at a remote school for the Shawi indigenous community deep in the Amazon of Peru.
Eagle Scout Helps ImpactAVillage
ImpactAVillage was proud to support Alex Bru from San Ramon, CA as he earned his Eagle Scout. Alex selected ImpactAVillage as the beneficiary organization for his Eagle Scout service project. He invited Deng Jongkuch to speak at California High School for a show he produced to build awareness about the harrowing journey of the Lost Boys of Sudan. Alex helped raised over $1000 in donations for ImpactAVillage.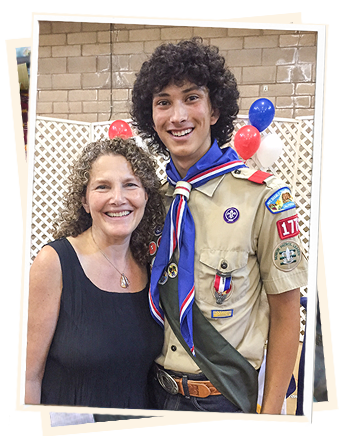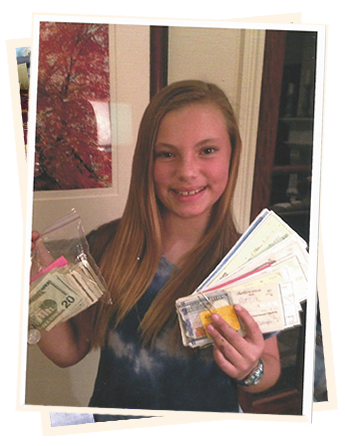 Makena Taylor, an 11 year old from Trinity School in Menlo Park, California was inspired by Deng's story when he spoke at her school in March, 2014. Makena was so moved to help that she wrote letters to her family and friends asking for donations to ImpactAVillage to support education projects for communities in need. She hoped to raise $1000, but she collected over $5000 in donations from 50 people. Wow! Congratulations Makena!

8-year old twins Gabriel and Tandara France raised $120 for ImpactAVillage by selling fresh squeezed lemonade. Their funds helped support the Malek Primary School in South Sudan and also helped them earn their way into We Day-California in March 2014.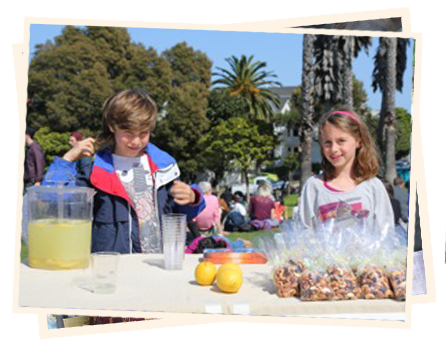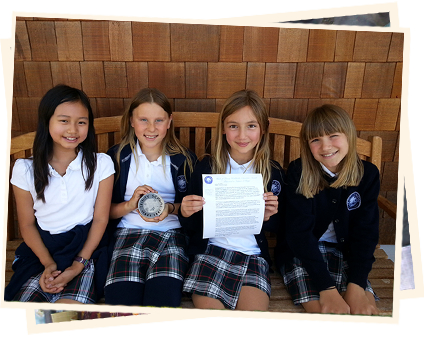 Penny Drive
The 5th grade class of Trinity School in Menlo Park, CA donated $100 to ImpactAVillage by collecting pennies during their school's annual Penny Panic Campaign. They also selected ImpactAVillage for the World Wide Learning Heart of Trinity Award.
"Impact A Village deserves this award because it helps make sure children all around the world have a good education and stay healthy. Our school values good education and being helpful to others, and your organization does both. By visiting schools, you help spread awareness and raise money. We enjoyed your visit to our school and are pleased to send you a check of one hundred dollars, a medallion, and a certificate of thanks." – 5th Grade Class of Trinity School, May 2014
St. Pius School in Redwood City sold Deng's book "A Story of Hope-The Journey of a Lost Boy of Sudan" and donated over $100 to ImpactAVillage.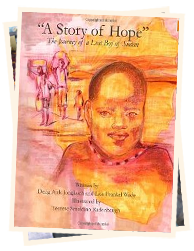 I'm ready to make a difference!
Every dollar donated makes an impact! We can make a difference one dollar, one project, one village at a time.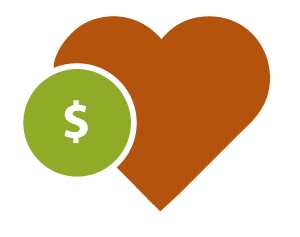 Buy The Book & Help A Village!
This beautifully illustrated book chronicles Deng's harrowing journey as one of the Lost Boys of Sudan. "A Story of Hope" is an amazing story of courage and is written for ages 3rd grade and up. All proceeds go to ImpactAVillage to help improve education and healthcare in villages around the world.
If you are an educator who wishes to purchase books for your classroom at an educational discount, please contact Lisa Wade, President of ImpactAVillage lisafwade@gmail.com
"A Story of Hope – The Journey of a Lost Boy of Sudan"
by Deng Jongkuch and Lisa Wade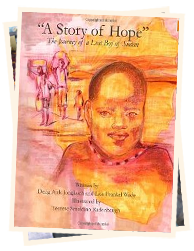 NEWS UPDATE: IMPACTING OUR CALIFORNIA VILLAGE

November, 2018: ImpactAVillage continues to support our local "village" of Northern California devastated by fires with our recent donation to the North Valley Community Foundation for relief of victims and workers of the Camp Fire. This is the way to impact a village!

October, 2017: The board members of ImpactAVillage voted to help our local "village" of Northern California devastated by the fires. We donated relief funds to the Redwood Empire Food Bank who is providing critical food to shelters for our neighbors displaced by fires. This is the way to impact a village!