Vocational School for Disadvantaged Youth
Vocational School for
Disadvantaged Youth
KHMER HANDS SCHOOL – CAMBODIA
ImpactAVillage is proud to support the Khmer Hands School of Art and Hospitality. This school a uniquely modeled, self-sustaining vocational training school designed to give Cambodia's large population of impoverished and at-risk youth as well as single mothers the job and life skills needed for a secure future. The design educates students, restores cultural arts, attracts guests, generates revenue to support the project/school, and works to improve the community. Kris Warner and his wife Naome developed and run the Khmer Hands School.
The Khmer Hands school is located in Kep, Cambodia an extremely poor province, but one that is rapidly redeveloping as a tourist destination. Rather than pull students away from home, the school is bringing hospitality and arts training to the youth, allowing them to stay with the security of family, and ultimately be a significant part of helping to rebuild their community. Students complete their studies in 18 months allowing for additional students to enter the school and as funds grow the school and student body will grow. The province of Kep literally has thousands of kids who could benefit from this training.
With the support of Impact a Village, the Khmer Hands School was recently able to build four new guest bungalows, buy three new sewing machines and hire a full-time sewing instructor. Khmer Hands also established permaculture gardens, which are providing fresh vegetables for their restaurant. Your donations to this project will help with school expansion and support additional students in their vocational training.
Make a Donation to the
Khmer Hands School in Cambodia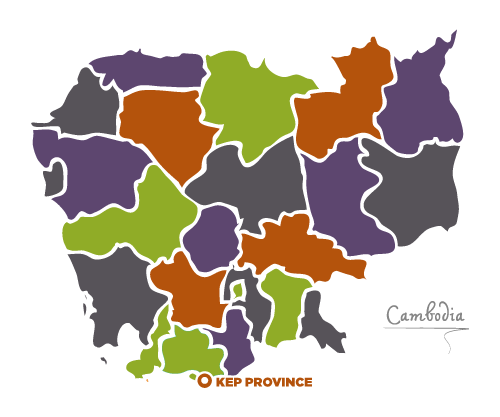 NEWS UPDATE: IMPACTING OUR CALIFORNIA VILLAGE

November, 2018: ImpactAVillage continues to support our local "village" of Northern California devastated by fires with our recent donation to the North Valley Community Foundation for relief of victims and workers of the Camp Fire. This is the way to impact a village!

October, 2017: The board members of ImpactAVillage voted to help our local "village" of Northern California devastated by the fires. We donated relief funds to the Redwood Empire Food Bank who is providing critical food to shelters for our neighbors displaced by fires. This is the way to impact a village!